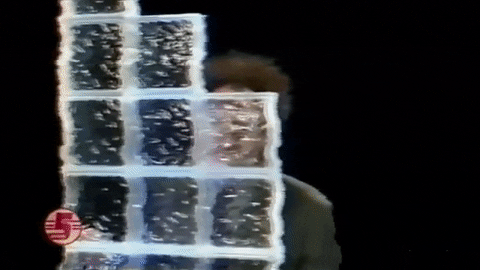 Gimme Shelter – The Rolling Stones
This well-known track never fails to send shivers down my spine. Mick Jagger's creepy vocals coupled with lyrics about a war torn apocalypse easily give off a spooky vibe to any listener. However it's the backstory to this song that makes it my pick for our Halloween playlist. The powerful female vocals featured in this song were from a very tired and pregnant Merry Clayton. Late at night, Clayton received a call from Jagger asking her to come record the chorus. She gave such an emotionally charged performance that her voice cracked when she repeated the chorus for a third time. After leaving the studio that night, Clayton was rushed to a hospital where she had a miscarriage. It's speculated that the stress from the forceful performance and the hour of day were factors in her miscarriage. After learning about Clayton, it's difficult to go back and relisten to the track. Hearing her scream "Rape, murder!" along with Jagger warning us "War, children, it's just a shot away / it's just a shot away", opens the song to a whole other eerie dimension.
-Maddie Vogt
https://www.youtube.com/watch?v=KKRCL2IF9x4
Song: Little Dark Age – MGMT
Although this song is only a few weeks old and may not be a Halloween classic just yet, it's eerie synth rhythms and reverb-heavy, monotone vocals, it definitely fits the Halloween vibe. This song is the title single for MGMT's new album, out in early 2018, and was released with an accompanying video that matches the song's retro and almost comedic horror theme. Listening to this song is an undeniably nostalgic experience, evoking images of monster movies and sci-fi from the 80s. In fact, "Little Dark Age" would fit right into the soundtrack of many of these movies. However, nostalgia alone doesn't make this track so enjoyable. Its earworm hook, unique styling, and catchy melodies make it a great addition to your Halloween playlist.
-Nikhil Mehta
Even from the very beginning, Mitski's "Happy" sends chills with a repeated electronic tom drum and an unsettling, soft spoken first verse about a one-night-stand and how she mistakes it for happiness. But then a bold saxophone and a booming electric guitar comes in as Mitski sings the main chorus in such a powerful approach. Happiness is temporary, according Mitski; the way it leaves you when you least expect it is a scary thought. And just as the song began, those unnerving electronic tom drums repeat again. It starts off quietly, barely audible, but begins to get louder and more overbearing until the song ends. Only describing how this song sounds does not do it justice — the music video is even more uncomfortable.
-Tyler Panlilo
Abracadabra – Steve Miller Band
To get spooky and groovy, this jam by the Steve Miller Band is great to get you dancing and hype for Halloween night. Though it's not a goosebump-giver, it's funky enough to turn things around and shake things up. Also, there's nothing like the combination of 80s music and themed halloween parties.
-Kayla Martinez
https://www.youtube.com/watch?v=wCuTrfTfGd0
Minnie The Moocher – Cab Calloway
I've been listening to a lot of Cab Calloway. He's got a top-notch jazz band and slick storytelling but it's the way every note on this track lingers that makes it sound so haunting. The fact that it's sounds so forties only makes me think it's his actual ghost I hear wailing on this track. I mean, I KNOW ghosts aren't real, but damn.
-Mateo Muro
Witchy Woman – The Eagles
One of my favorite classic band, Eagles, fits the Halloween Spirit perfectly with their tune "Witchy Woman" from their B-side record 1972 album. Not a "Thriller" type approach to the Halloween theme, Eagles keeps its classic alternative rock style but creates a horrifying ballad about a woman living a very witch-like lifestyle. Obviously setting up a metaphor to depict a crazy woman as a witch, Eagles gives an overarching theme that the song is purely about a witch if the song is not thought about deeply. So for your first listen, sure, it's a "spooky" song. With a more experienced ear, it comes across a little bit shameful to say that this woman being sung about must be intrinsically evil because she lives a crazier lifestyle than most. Being a "restless spirit on an endless flight" is the first jab made, saying that possibly this woman has so much energy that she seemingly never stops. Going on to say "she's been sleeping in the Devil's bed" brings a more promiscuous light to the scene. Either way, Eagles points fingers at the "party lifestyle" this "witchy woman" upholds, which can be scary to some. As if not confusing enough, this "witchy woman" has the singer swooning over her at the end of the day. Describing her antics as crazy and filled with dark magic might convince a listener that this woman is not to be bothered with, but that might just be what brings together the love interest. "Witchy Woman" by Eagles offers up many spooky options for your Halloween: witches, crazy people and maybe even a love interest.
-Maggie Knoll
Video of "Witchy Woman" being played in 1973
Fade to Grey-Visage
I consider this song to be spooky yet a good song to dance to this Halloween! The beat has an eerie repetitiveness to it and it gives off a strong Halloween vibe. The artist often whispers the lyrics throughout the song which also emphasizes the spookiness of the song. Most of the song is in French, which if you don't speak it, it creates a strange yet enticing feeling as you listen to it. The parts of the song that are in English have a creepy meaning and definitely extenuate the Halloween aspect. Give this song a listen this Halloween, I promise it will put you in a spooky mood. I almost forgot, this song was also in American Horror Story, does that convince you to give it a listen?
-Allison Coonley
Iron Man – Black Sabbath
What is more Halloween than a good slasher? This Black Sabbath song tells the tale of a man who traveled into the future and saw impending doom for the present. Before returning to his time, the man is turned into metal by a magnetic field (smart stuff there Ozzy). Because of his altercation, he cannot warn his people of the future's horrors. They mock him, but he will get his revenge. The Iron Man comes with vengeance to the people that thought he was no longer able-bodied.
Tony Iommi, the riff master himself, gives us his most iconic riff here on Iron Man to help make this song a classic since its release on Paranoid in 1970. The Prince of Darkness screeches his voice among his pioneers of metal to give us this spooky song. It's heavy, it's powerful, and it's perfect for Halloween.
-Ryan Wollenberg